Google Data Highlighter is a tool for non technical marketers to mark up content on websites that could appear in rich snippets, leading to higher rankings and click through rates.
What is the Google Data Highlighter for?
Does your site contain content such as products, recipes, event listings, reviews or ratings? This type of web content can be shown in search engines in more prominent ways called 'rich snippets'. For example events can be shown in a search engine results page like this:

Lots of websites contain events that may not have been marked up to appear in Google Search. This is because they may not have added "structured data" a web development team usually does this. But Google has created the Data Highlighter system so that non-techy marketers can also add rich snippets such as the one above. It's a simple process (described below) of loading up a web page and clicking on the relevant data and Google does a good job of guiding you through it. It also doesn't need you to highlight every page. Once you show a few examples of data on your web pages, Google uses machine learning to add the structured data to all similar pages on your website.
---
How to improve your website using Google Data Highlighter
Login to the Google Data highlighter https://www.google.com/webmasters/data-highlighter/
Note: to use Google Data highlighter you must have a Google account and your website registered with Google Search Console.
Click the 'Start Highlighting" button to get started.
Then enter the URL or web address of pages that contain structured data such as products, recipes, event listings, reviews or ratings.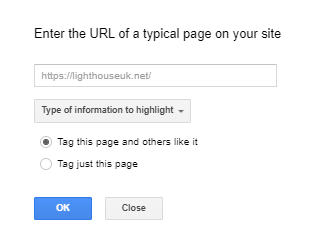 Then select the type of information to highlight
Click start and the webpage will load. Then it simply a matter of clicking on (or dragging over) items and selecting the type of data. Once the page is marked up click done.

Do this on a few pages to give Google enough examples and it will do the rest.
Need some more help with this? Or want a better Schema Solution we can help!
---
Have you tried this quick win?
Was it easy to follow? Did it take more than 5 minutes and has it had any impact (so far)? Share your thoughts and help other membership organisations improve their SEO.