Return to all posts
Member Recruitment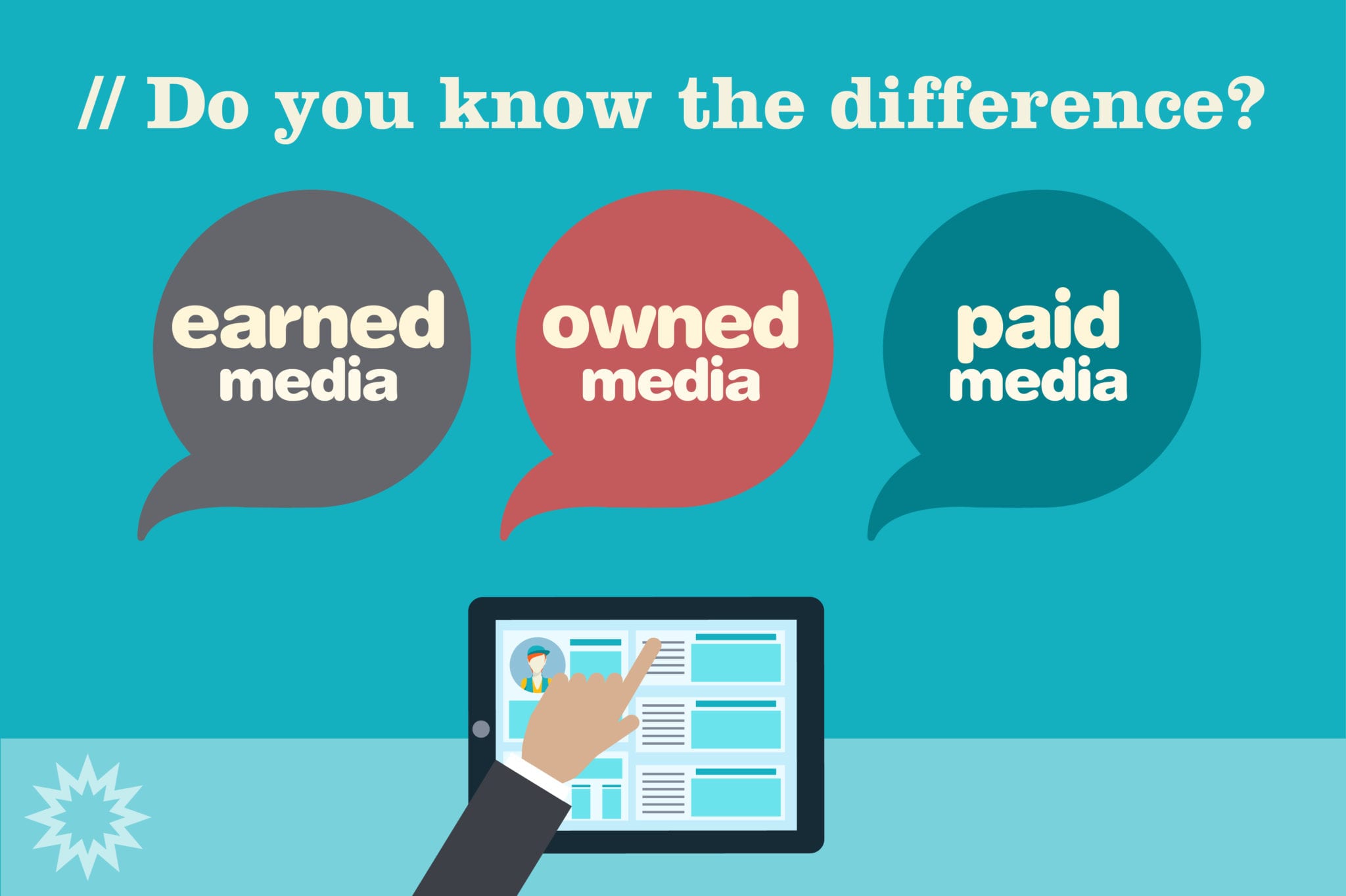 Posted by:
Archie Homer
•
Posted on:
13th July 2018
What's the difference between earned, owned and paid media?
Assuming you know who you are targeting, with what messages, on what channels and your goals are crystal clear and measurable, you're ready to start generating demand – and all three of these strategies will come into play at some point:
1. Owned media
Owned media is content that your organisation has complete control over, typically distributed over your website, apps, blog and social channels. As the backbone of demand generation, owned media content is used to draw buyers into the funnel, set the tone for, and start conversations. But remember:
Quality, not quantity
There is a tendency to think that you need to keep creating masterpiece after masterpiece each month. But it's likely that a new prospect entering the sales funnel hasn't seen half the stuff you've already created, so the aim is to get some really good content in place at each stage of the buying cycle that informs, educates, inspires and persuades your personas relative to their current position – and keep using it.
Create
To create the really good stuff, remember those content originators. The start point is picking their brains, but if you have the workflow in place this should be forthcoming. We are constantly surprised how much really good content stays locked up within the company, just waiting to be discovered. Try looking through your emails and see how many times you have answered the same question in different ways. Why not turn this into a blog post.
Repurpose
There is no need to constantly re-invent the wheel. Once you have created some proper value-added content, it can be repurposed in all sorts of ways and distributed in different places to drive traffic to the site, or to nurture a contact through the sales funnel. So before you start the more difficult process of creating new content, make sure that you have fully utilised what you already have.
Optimise
Yes, it's true you need to talk to people, not search engines, but before anything is distributed make sure that it is optimised for search. But we will cover that later in this section.
Owned media examples:
Articles and blog posts – The lifeblood of driving traffic
Infographics – Creative and informative
Webinars – Live or recorded, one to one or one to many
White papers – Copy, design and layout or part thereof
Presentations – As stand alone assets or material for webinars and videos
Guides – You can't beat an interactive guide to help capture data
Calculators – Turning those internal spreadsheets into valuable content
Demos – If your product is good, show it off
Games – Everyone needs some light relief – let's make it useful as well
Podcasts – As simple as audio from a webinar or a regular series
Did you know: Companies that blog generate on average 126% more leads, 434% more indexed pages, 55% more visitors and 97% more inbound links (backlinks) than those that don't.
2. Earned media
If you think of 'owned media' content as the destination, then 'earned media' is one of the prime vehicles to get people to it, in the right frame of mind. You are trying to leverage the credibility, reach and authority… of someone else. The trick is persuading them to do something that helps you. For example:
Sharing
The easiest method of earning credibility is through shares, mentions and comments, typically across social media channels. But the trick is to focus your efforts on getting this from the right people on the right channel for each persona. Usually this requires engagement.
Reviews
Overlapping with another of our core business strategies, 'Creating Loyal Customers'. Well, you've got customers, right? And they are happy, aren't they? So let's get them to tell the world. There are loads of ways of doing this; in fact, almost every social media channel has some form of the review mechanism.
Guest blogs/editorials
Yes, a bit more tricky perhaps, but if you can persuade gatekeepers of credible outlets to invite you to participate in the creation and publication of their content, you gain both credibility and authority. Sounds like PR, right? Oh! and don't forget to establish your authorship.
Remember
Different channels targeting different personas at different stages of the buying cycle require different content, personalised in tone and message according to the job it has to do. So when we talk about repurposing, we mean here as well. More people will be more willing to share stuff they can relate to, but it needs to be channel-ready. And don't forget all channels are connected – it's time to stop thinking in silos, start thinking globally and connecting dots. Always ask yourself: how can I reuse this information?
Did you know: 84% of B2B marketeers use social media in some form and 59% of all marketeers dedicate 6+ hours to social media each week. Why? Because social media produces twice as many marketing leads than trade shows, telemarketing, direct mail or PPC – and engaged social media lead conversion rates are 13% higher than average conversion rates.
3.Paid media
As we are doing buzzwords, let's complete the trilogy with 'paid media', also referred to as 'native advertising', traditionally covering the likes of TV and press advertising. But nowadays, this includes a growing collection of online channels and it's another integrated tactic we can use to generate demand… and often expedite it.
Pay-per-click ads
With the trend towards 'content marketing', pure pay-per-click is less in vogue (in some circles), but it can be used very successfully to drive traffic to demand generation pages and start feeding that funnel. And the best bit is that it's instant, infinitely changeable and easily measurable. So we tend to use it as a way of refining approaches, keywords etc, giving us valuable insights for the long game.
Guaranteed top spot. OK, fewer clickthroughs than organic search. But when you are just starting out there is no quicker way to the first page
Test and refine. You can tweak and refine headlines, keywords, messages and landing pages, even conversion pages and parts of the sales funnel in real time (almost).
Inform. Google gives you more detailed analytics if you pay for ads (oddly!), so all that testing and refining can be used to inform your organic search plan.
Proof of ROI. You can track every aspect of PPC, so you know if you are getting a positive ROI. And if you are, well why would you argue.
Targeted gaps. There are always phrases, topics or places where you should have traction, but can't get it. PPC is highly targeted and can often fill this gap.
Sponsored posts.
Most social channels now offer some kind of a sponsored post (or two). Very often they can be highly targeted and, as with any digital approach, completely measurable. So while the holy grail is to get people to engage with and distribute your message because of quality alone, there is no harm in giving key messages a little help to get going, especially in the early days.
Insular. Some social channels allow search engines to index some part of their site, so you have a search marketing job within the channel itself. But strangely enough there is some favouritism towards paying customers.
Value for money. Usually PPC ads and sponsored posts on social channels are cheaper than their counterparts on search engines (they are still learning).
Instant. Ads are instantly 'turn on-and-offable' – which is useful for giving a boost to date driven campaigns like events and webinars.
Retargeting
Let's say you are looking for a holiday. You find a good one on a particular site, but you are in the 'consideration' stage so you keep looking. Have you noticed that you are being followed online by a lot of ads about holidays and they are all about the same destination – the one you were looking at! Typically, this kind of approach is used in high volume consumer products, but it doesn't have to be.
Paid influencers
No, we are not talking bribery! Sometimes, if you can find a person that has a significant reach and influence over one or more of your target personas, it is worth paying them to endorse your product, contribute content or even become a full-blown ambassador. And sometimes it can work simply with a reciprocal arrangement.
Reader Interactions